Developing a culture of diversity, equity and inclusion to generate superior performance from our business
Developing a culture of diversity, equity and inclusion to generate superior performance from our business
At Gresham House we value the fact that each one of us is different.
We also understand that Diversity, Equity and Inclusion (DEI) are vital to creating and maintaining a successful workplace.
We are committed to leveraging our differences and embracing our diversity of thought and skills to achieve better results, better insights for our clients and to create an environment where everyone feels valued, respected and able to realise their full potential.
We are focused on making this a reality, through a commitment to change (where necessary) and tangible investment in policies, practices and initiatives that will embed enduring and sustained change that is not time-bound.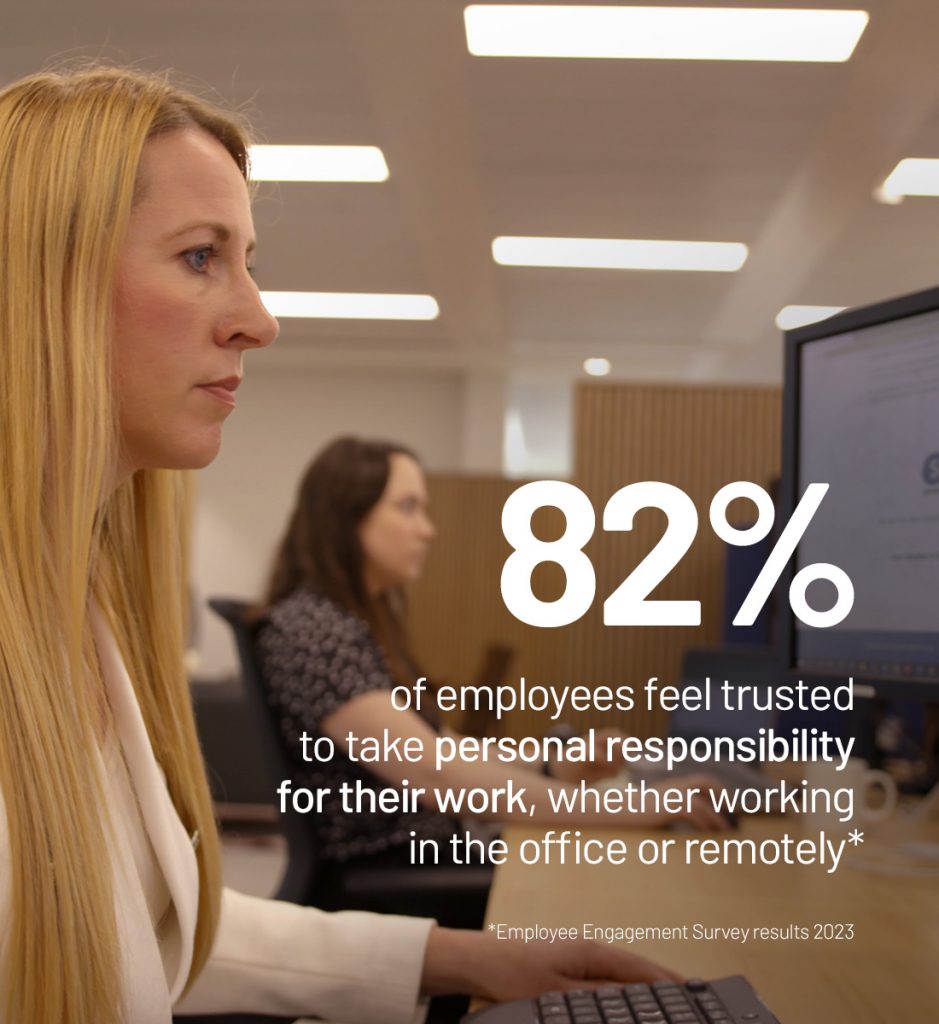 We are building a diverse and inclusive team and work environment, in order to attract – and retain – the very best individuals.
We want these individuals to fulfil their potential, and we aim to achieve this through the development and integration of inclusive and equitable practices within all relevant aspects of our work.
This will facilitate the execution of our business mission to deliver strong, consistent financial performance in alternative investments and to influence and support our clients and shareholders in achieving their long-term objectives.
Our DEI approach aims to create an inclusive work culture through key actions:
Building awareness across the organisation
Tackling unconscious bias
Instilling inclusive leadership in managerial practices
Supporting under-represented groups
A key tenet of Gresham House's 'GH25' strategy is to become a leader in ESG and sustainable investing
Our DEI strategy will support us to build a successful corporation with a workplace that is diverse, inclusive and equitable, to empower employees to reach their potential.
There can be many business benefits from DEI and these are well documented:
Improving decision-making and risk management, basing decisions on broader knowledge and experience, avoiding "groupthink"
Increased employee satisfaction and retention
Increased attraction for new talent and brand value
Increased ability to innovate and compete using diversity of thought
Meeting client demand and shareholder expectations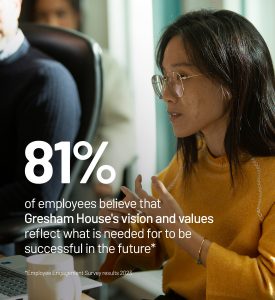 We believe our commitment to diversity, equity and inclusion, and making a positive change, can only come about through determined, meaningful and authentic action.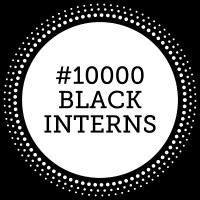 As part of this commitment, we  participated in the #10000BLACKINTERNS initiative, which offers Black students across the UK an opportunity to kick start a career in investment management and financial services. The internships are paid and last a minimum of six weeks. We were delighted to welcome interns in our investment teams over summer 2021 and 2022 and look forward to inviting our next cohort

We have also partnered with Leadership Through Sport & Business (LTSB), a social mobility charity that prepares and supports bright young people from disadvantaged backgrounds into meaningful roles in accounting and technology with major firms. They make sure those at risk of under-employment find careers equal to their ambition and ability and can contribute from their first day on the job.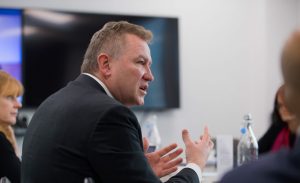 Note from the Chief Executive
I am proud of the company we have built and continue to build at Gresham House – in particular the values that we seek to represent, which form the foundations of our team and culture.
We are meritocratic and collaborative, and understand that a diversity of views and experiences maximises value for all our stakeholders.
As our industry evolves, it is crucial that we are prepared for the challenges the macro environment presents, capturing the opportunities that matter most to our firm, our clients, and our communities – as well as continuing to attract industry-leading talent to our team.
Please take the time to read our DEI Strategy.
It sets out our short, medium and long-term goals, with the aim of ensuring that DEI is 'business as usual' at Gresham House as we seek to build a world-class organisation capable of delivering on its mission to capture the opportunity we see before us.
Tony.
DEI policy and guidelines for recruiters
We have developed a clear policy where we are committed to equal opportunities and diversity in our recruitment and employment of new members of staff.
We are determined to ensure that no applicant or employee receives less favourable treatment on the grounds of gender, age, disability, religion, belief, sexual orientation, marital status, or race, or is disadvantaged by conditions or requirements which cannot be shown to be justifiable.
We want to ensure all our talent acquisition practices, consistently provide equal opportunity and integrate DEI concepts into our recruiting, hiring and development of a high-performing workforce. On this basis we have also recently introduced guidelines for recruiters acting on our behalf.
Our full policy outlines in detail how we go about ensuring we maintain our high standards and retain employees from a wide range of backgrounds.
Our Diversity, Equity & Inclusion Committee
In mid-2021, we founded our first Diversity, Equity & Inclusion Committee.
Deliberately composed of a mixture of ages, genders, nationalities, seniorities and viewpoints, we meet each quarter to move the agenda forward and hold ourselves and the company to account. We are passionate about social mobility, understand that diversity in niche real asset investment is a challenge that we are well-positioned to influence,  and share the view than any person can – and should be able to – do any job, given the right tools and the right circumstances.
Jamie Bakewell


HR Manager

Liz Brown


Investment Manager, Housing

Keisha-Ann Duodu
Institutional Sales Manager
Derek Heffernan  


Senior Portfolio Manager, Ireland
Chlo

ë

Jacquet


Asset Manager

Ruth Murray


Investment Director, Sustainable Infrastructure

Jeston Na Nakhorn (Chair)


Chief of Staff

Harpreet Nagra


HR Executive
Stephen Ramage


Investment Director, Forestry

Louise Richards


HR Director

Israh Samari-Khan


Team Personal Assistant, Strategic Equity

Rees Whiteley


Sales Manager, Wholesale Distribution
Our DEI strategy
From our initial meetings, it became clear that we needed to lay out our plans in a formal strategy document, the DEI Strategy, to sit alongside our policy as an indicator of our objectives and as a way of holding ourselves to these objectives.
The purpose of our DEI strategy is to set out the internal behaviours and actions that should be implemented to improve diversity, equity and inclusion across the company in order to support our corporate objectives.
This will help us achieve our vision of effecting a sustainable cultural ambition across the whole organisation. It provides a shared direction and commitment for Gresham House so we can work together to recruit, retain, respect and value a successful workforce as well as supply chain, clients and shareholders, and build an inclusive workplace.
The effectiveness and achievement of our goals for DEI will be reviewed and reported on quarterly.
The report will be provided periodically to the Group Management Committee and, after review and approval, to the Gresham House Board.