How we discharge our stewardship responsibilities
How we discharge our stewardship responsibilities
Our Stewardship Code disclosure
The UK Stewardship Code (the Code), aims to enhance the quality of engagement between investors and companies to help improve long term risk-adjusted returns to shareholders and is to be applied on a "comply or explain basis". The Code is not a rigid set of rules and consists of principles and guidance.
Please note: the information in our Stewardship Code Reports focuses on the stewardship activities within our UK business, Gresham House Asset Management Limited (GHAM) and not Gresham House Asset Management Ireland Ltd, which is regulated by the Central Bank of Ireland.
In September 2022, it was announced that Gresham House had met the expected standard of reporting for 2021 and remained a signatory to the UK Stewardship Code 2020 for the second year in a row.
Our report describes how we applied the Code's Principles in the 12-month period to 31 December 2021.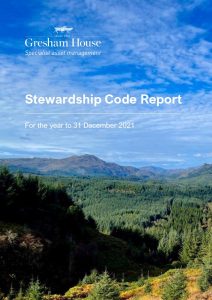 ⬇️ Gresham House Stewardship Code Report 2022
We submitted our 2023 Gresham House Stewardship Code Report to the Financial Reporting Council (FRC) in April 2023, describing our application of the Code's Principles for the 12-month period to 31 December 2022.
We remain a signatory for our 2022 Report, as our 2023 Report has not yet been approved by the FRC. We expect the results by September 2023.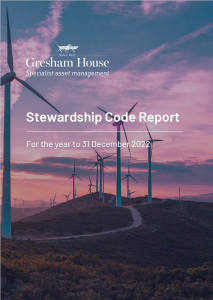 ⬇️ Read the Gresham House Stewardship Code Report 2023 >>
If you have any questions regarding stewardship, please email our Sustainable Investment team or get in touch via our Contact page.